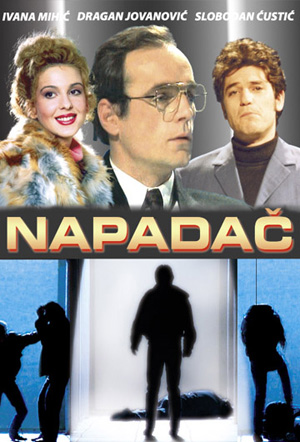 Production Companies: Viktorija Film, Belgrade / RTS, Belgrade

Main Cast: SSlobodan Ćustić / Ivana Mihić / Radoš Bajić / Danilo Lazović / Vera Čukić / Dušan Janićijević / Svetozar Cvetković

Producers: Slobodan Jocić

Director: Đorđe Kadijević

Writers: Đorđe Kadijević

DoP: Aleksandar Petković

Production Designer: Marina Milin

Editor: Nataša Pavlović

Music by: Lazar Ristovski

Costume Designer: Zagorka Stojanović

Technical Information: TV Film-Drama / 56 min / Serbian language / 1995
A successful man, television presenter, lives a happy and comfortable life. Then, one night in the parking lot he gets beaten. He does not know who attacked him nor why was he attacked. When he, a few days later experiences another unmotivated attack, his life begins to change: friends are suspicious, he loses his promotion on job, girlfriend suspects his sanity. Lost in the night, he wanders dark streets searching for the assailants. One such night, suddenly - he became the aggressor.